Charlotte and I's recent trip to Napa, California also included a few days in San Francisco, and you know we had to make sure we checked off a few Star Wars sites along the way. One of our favorite stops was at the Lucasfilm offices to take some pictures in front of the infamous Yoda fountain. During our trip there though, a few LFL employees let us know that we should also take the short trip up to San Anselmo, California to check out Imagination Park, which has its own unique Yoda Fountain. Imagination Park is a cute little pocket park in historic downtown San Anselmo, California that not only has a Yoda statue, but also an impressive Indiana Jones statue too.
Located in the historic downtown, this pitstop started me down a research hole about the history of Imagination Park and George Lucas's life in San Anselmo: a town he has called home since the early 1970s. I've compiled some of that research here, and Charlotte and I also recorded a bonus podcast episode about it if you'd like to hear us chat about it in real time. Listen here! I work professionally as an architectural historian and spend a lot of my days doing deep dives on historic buildings and towns, so this was right up my alley! There are two main pieces of land I've conducted research on: Imagination Park and 52 Park Way (George Lucas's home in San Anselmo). This post works well as a companion to the podcast episode with some historic photographs and aerials. I hope you find this information interesting, and I hope it can showcase a little how every building or piece of land can have a story attached to it!
52 Park Way
George Lucas first moved to San Anselmo in the early 1970s with his first wife, Marcia Lucas, after the success of American Graffiti. He has maintained the same property since then and has continued to live at this address ever since. George owns all of the property in this area (also known as Pine Hill) and some properties outside of the Park Way "circle". This website notes that when George and Marcia moved to the property it was a "Marin landmark" which piqued my interest to see if I could actually find a historic photograph of the house, or any information about its history.
Two of the properties outside of the Park Way "circle" made local headlines when George sued the town of San Anselmo over easement disputes. Through that research though, came to light two reports that were written about the buildings set to be demolished on these properties. These reports connected the dots of the larger history of the area and its relation to George Lucas for me. This area of land was a part of a 45-acre tract owned by Minthorne Tompkins and his wife Harriot. The Tompkins were a part of a group of some of the first white settlers in San Anselmo. Minthorne built the first two-story estate in San Anselmo in 1870. As the building report notes:
In 1869, Minthorne and Harriot (wife) purchased 45 acres of land east of Red Hill, […] where they had a large house built in 1870, which was the first estate constructed in San Anselmo. […] According to Minthorne's will, he deeded his entire estate to all six of his children. However, it appears that prior to his death, a portion of the original 45-acres of land, excluding the 1870 Tompkins house (extant), had been deeded to his wife Harriot and was sold in 1918 by her children to the Doherty Co., Inc., who subdivided the land as part of the Sequoia Park residential development. Streets were given names like Cottage Avenue and Bungalow Avenue, representing a particular image of the type of architecture that would be constructed within the subdivision.

Historic Resource Evaluation for the Property at 115 Sequoia Drive, San Anselmo, Marin County, California, Evans & De Shazo Archaeology & Historic Preservation
This lines up with the current location of George Lucas's property and analysis of the only historic photo of the Tompkins Estate and George Lucas's home reveal some similarities. Personally, I think the alignment of the second story bay window roof line, the central entrance, and the curved driveway are all good indicators that this could be the same building. Here's the unmarked photograph of the Tompkins Estate:
Now here's a marked comparison between the two buildings:
That is my case for George Lucas's house being the historic Tompkins Estate! There were some other fun stories associated with two of his daughters that I thought I'd add in here. Minthorne Tompkins' eldest daughter, Emily, married ornithologist Joseph Mailliard in 1881 in a lavish wedding. The couple lived nearby in San Geronimo and had two children together. Suddenly, in 1891, Emily disappeared. After nearly a month long search, and her family fearing the worst, it was discovered that Emily had run away with another man and intended to marry him. She and Joseph divorced and Emily married the man she ran away with…only for it also to end in divorce a few years later. Her third marriage appeared to stick, but after the scandal she never reconciled with her family or saw her two children again. The Tompkins' youngest daughter, Ethel, is credited with the founding of the Marin Humane Society. The first location of the Marin Humane Society was in San Rafael. According to the organization's history, "Since there was limited space for housing the animals, Ms. Tompkins also built cages and kennels in her San Anselmo home" (Marin Humane Society). While it's not definitive, this could be the Tompkins Estate being referenced again.
Imagination Park
Imagination Park is the origin story for this research, and when Charlotte and I first arrived, we did a quick Google search on the park and were interested to learn that George Lucas had owned this land for a number of years and ultimately ended up financing the creation of Imagination Park after a request from the Chamber of Commerce in San Anselmo. On this plot of land, there was historically a commercial building that was constructed in the early 20th century. In the early 1940s, the building is taken over by the Rossi Brothers, who operated the building as a pharmacy until the 1980s. Shortly after opening the pharmacy, the Rossi Brothers commission the artist Jose Moya del Pino to create a mural on the history of pharmacy in 1945.
George Lucas buys the building sometime between 2008 – 2010 with the intent of making it a community center that featured something such as a park, a theater, or even a "ping pong" center. In the summer of 2012, the town of San Anselmo approaches George about donating the land and working with the city to finally realize the community center. They eventually agree to move forward with the park idea and commission two statues to be created: one of Yoda and one of Indiana Jones. Prior to the demolition of the buildings, a historic resources report is written by the San Anselmo Historic Society on the buildings. The report noted that the only thing of significance in the building was the mural by Jose Moya del Pino. George hires a local art conservator to oversee restoration efforts on the mural and to remove the mural from the building prior to its demolition. The mural was donated to the Spanish-United States Foundation and is eventually given to the Spanish Consulate in San Francisco where it is said to be on display today.
Jose Moya del Piño
Jose Moya del Pino is a Spanish-born American painter who first moved to San Francisco in the 1920s. He painted in the post-impressionist style and is known for his portraits and murals. He taught at the San Francisco Art Students League, San Francisco Art Institute, and the College of Marin. Much of his notable work comes from work he did as a part of the Public Works of Art Project. These include many murals for post offices in the Bay Area (as well as other states), and a mural for the lobby of Coit Tower in San Francisco in 1934. He is buried in San Rafael, California. The Marin Art and Garden Center's Octogon House is home to the Jose Moya del Pino library.
Bonus Facts:
George Lucas was a part of the "Miracle Mile" beautification project. The Miracle Mile is essentially a tract of land that followed the old railroad tracks (which were removed) and is now a landscaped median. As a part of this donation, he also purchased a music store that was located along this median in order to move the building and renovate it so it did not have to be demolished.
Mill Valley is also known for the Mill Valley Film Festival, which was organized in 1977 and had its first festival in 1978. It is considered one of the top film festivals in the country today and Lucasfilm has been a sponsor for many years in addition to Star Wars characters making frequent appearances at the festival.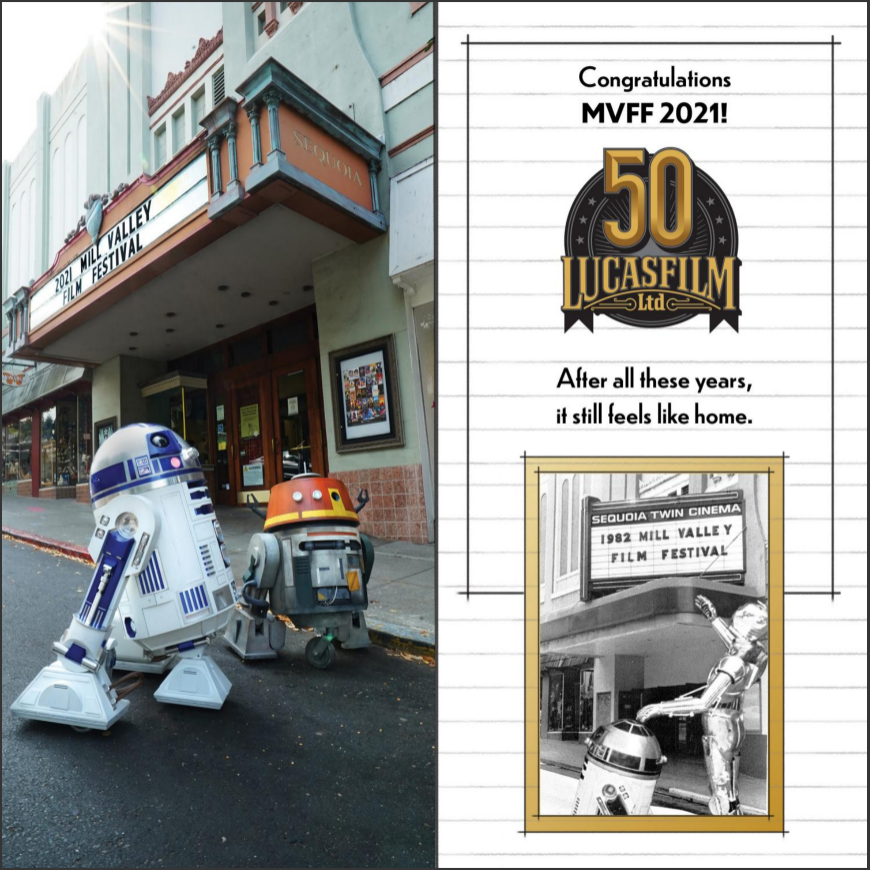 Conclusion
There's not a great way to wrap up this post, but I hope you enjoyed seeing some of these places! As Charlotte and I discussed in the podcast episode, being in San Anselmo added a lot to our understanding and general feelings about George Lucas as a person. Seeing his involvement in his local community through some of this research confirmed for us that this is a place he feels deeply connected to and cares about. If you're in the Bay Area, it's definitely worth the short drive up to San Anselmo to see the park and surrounding area for yourself!
If you have any questions or comments, please feel free to comment here or email me: caitlin@skytalkers.com!
Sources